Aug 23, 2012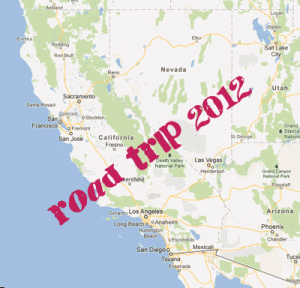 We took a week long trip in June this year, to visit a few cities that our daughter and I had never been to before, but that Josh had been, and then also returning to another city we hadn't been to since our daughter was two and a half years old. One of our goals was to drive the Pacific Coast Highway.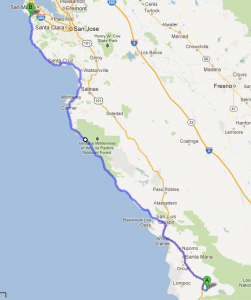 We started our trip by driving to Solvang, CA, staying one night at Pea Soup Anderson's hotel.  After checking in, we drove into town to walk around checking things out.  We bought some Danish chocolates and some Danish pastries, then drove back to the hotel and had dinner at Pea Soup Anderson's restaurant.  The next morning we had the hotel's continental breakfast, finished packing up the car again and headed out for the Pacific Coast Highway, ending in Half Moon Bay. [caption id="" align="alignright" width="320"]
Elephant Seals sunning on the beach[/caption] We made a couple of stops along the way.  One of the first was a scenic turnoff to see Elephant seals basking on a rocky beach.  It didn't have any facilities though, and we all needed to use the restroom, so after taking some pictures of the seals, we got back into the car and continued on to look for somewhere to stop.  Please note, there are
very
few places to stop on this highway, LOL!  But we did find a place to stop, it was a little rest area with a rather steep and curvy one-way road down to it.  The restroom was one of those metal toilet over the hole in the ground things... I almost couldn't get our daughter to even use it, but I remember being terrified of those things when I was little, too, so I know how she felt!  I convinced her it was fine and that I wouldn't let her fall in. Ha! [caption id="" align="alignleft" width="320"]
Crashing waves[/caption] Once we were all done with our business, we hung around for a bit and walked/hiked the short distance from the restroom area down to the rocky beach and took some more pictures.  We tried to get that "perfect" shot of the waves crashing up on the giant rocks out in the water with our daughter in the foreground.  We got a few that were okay. It was a nice little area.  If we had more time and had brought a picnic lunch along, it would have been a nice place to sit and eat while listening to the ocean.  There was also an older couple who had stopped there before we did, they were just sitting on some rocks reading and enjoying the nice weather and the lovely environment. 
edited:
While I was updating this post after I deleted my gallery plugin and broke the pictures (now moved to Flikr), I was also searching Google Earth/maps to see if I could locate this little place, as we missed it on our second trip in 2013.  I found it!!  It is the
Mill Creek Picnic Area
!  Now we know what to keep an eye out for when we go this year (2014).  Woohoo! But we needed to move on, so we piled back into the car and carried on.  We stopped for lunch a bit later, in Monterey I think.  I probably don't remember precisely what city it was in, since we weren't exactly thrilled with the service we experienced at the restaurant we chose.   If you've ever eaten somewhere at the same time as a much larger party of diners (i.e. 8 or more, you know, the "automatic gratuity" size of table), and pretty much ended up getting bottom-of-the-barrel treatment, then you'll know why it wasn't very remarkable. Onward we drove after lunch and finally reached Half Moon Bay in the mid-afternoon.  We checked into our hotel and relaxed for a bit, and then around dinner time, found the nearest grocery store and bought a half gallon of milk and picked up some fast food for dinner (yeah, I know, real healthy LOL). Day three was a bit of sight-seeing in San Francisco.  First we drove to the Golden Gate Bridge, over it, and back again.  It was free to leave the city, but cost $6 at the toll-booth to get back in. [caption id="" align="aligncenter" width="500"]
Golden Gate Bridge[/caption]
Then we went to Pier 39 for lunch at Boudin Bakery Cafe, and some wandering around.
[caption id="" align="aligncenter" width="500"]
Alcatraz from Pier 39[/caption] Of course we couldn't leave without picking up some real sourdough bread from Boudin, and we also shopped at the Candy Baron and the Fudge House. [caption id="" align="alignright" width="180"]
Carousel ride[/caption]
Our daughter and I rode on the carousel and bought her a Zip It purse.  Pink, of course.  And yes, it was rather odd to be needing a light jacket in the middle of June!  But it was also a very nice change from the seemingly never-ending heat we live with here at home.
I think this is one of my favorite photos from that day.  It shows just how red our daughter's hair can look in just the right light.  :-D
I think I'll stop here for now and will continue with the rest of the days of the trip in a new post later. 😊