Nov 15, 2009
Results of testing out Pardo Clay
So I baked the Santa, Snowmen and Angel beads I made over the past week, yesterday. Here they are all together: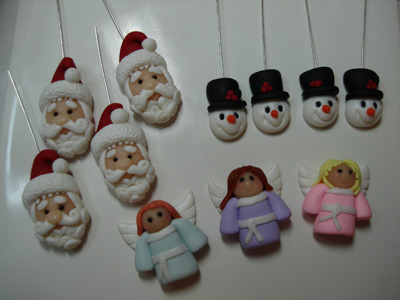 I forgot to put halos on the angels, and I'm debating whether to add them since their flesh color already seems to have darkened just from the 30 minutes they spent in the oven already, compared to the Santas where I used the same type and color of clay.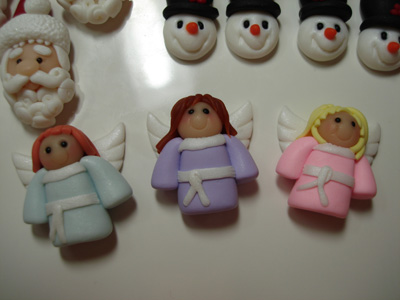 I'm a little disappointed with the green Pardo that I used to make the holly leaves on the Snowmen's hats, it turned out very dark. I'm not sure if that is because they were such a very thin amount or if it's just because they're laid upon black hats and it's picking up the color from the hats.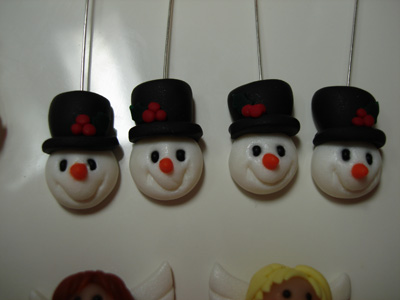 But I am happy with how the Santas turned out!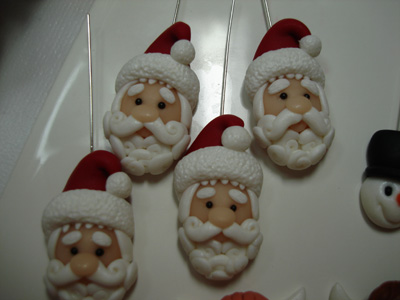 These are just preliminary "show and tell" pictures of course. I still have to loop the wires on the Santas and the Snowmen and maybe add some glaze to the Snowmen, angel wings and Santa hats to bring out the pretty colors in that mother-of-pearl Pardo, and then I'll take the pictures that I'll use when I post these up at my Artfire shop. Hopefully under better lighting the green holly leaves will show a little better but even with the naked eye they're still pretty dark. Oh well, live and learn.